Unsubstantiated allegations that were unaddressed for too long gained a life of their own. This website addresses questions, corrects falsehoods and sets the record straight based on publicly available, verifiable information (here is the announcement for the launch of this website, which is maintained by the Raymond Sackler family[10]).
Documents being released in Purdue's bankruptcy show that Sackler family members who served on the company's Board acted ethically and lawfully. The proposed resolution to the litigation, which includes the Sackler family relinquishing ownership of Purdue and also contributing at least $5.5 billion to address the opioid crisis, is intended to provide help rapidly for communities and people in need. The Sackler family regrets that OxyContin, which continues to help people suffering from chronic pain, unexpectedly became part of the opioid crisis.
VIDEO PRESENTATION
Abbreviated Summary
This video provides an abbreviated summary of the topics discussed throughout these pages, including the false allegation that OxyContin is responsible for creating the opioid crisis even though the medicine was never more than 4% of all opioid prescriptions.
Watch the detailed video presentations of these facts.
---
"The court of public opinion is sometimes the most powerful court."

MIKE MOORE, PLAINTIFF'S ATTORNEY – DECEMBER 2018[2]
The strategically invented false narrative has succeeded. When plaintiffs' lawyers decided to target Purdue and the Sackler family, they were candid about their approach and strategy. For years, the news media and plaintiffs' lawyers have falsely blamed Purdue, OxyContin and the Sackler family for causing the opioid epidemic based on hyperbolic and sensationalized attacks that are unsupported by actual evidence.
The plaintiffs' lawyers hired clandestine help: The most prominent, supposedly "independent" experts making misleading comments about OxyContin, Purdue and the Sackler family were actually surreptitiously being paid as litigation consultants.[9]
The false narrative gained further traction in 2018 when Massachusetts became the first state to name the Sackler family specifically in lawsuits against Purdue. That lawsuit included numerous false claims that were quickly copied by other states.
"Litigation is a blunt instrument; it provokes interest quicker than anything I've ever seen."

"Vilification of this industry has not even begun yet."

"This litigation will vilify them. It won't make the companies look like they're legitimate businesspeople. It'll make them look like they took advantage and made billions of dollars on lots of people who died from their products."


MIKE MOORE, PLAINTIFF'S ATTORNEY, OCTOBER 2017[3]
---
MARKET SHARE
All Opioid Prescriptions: 1992–2018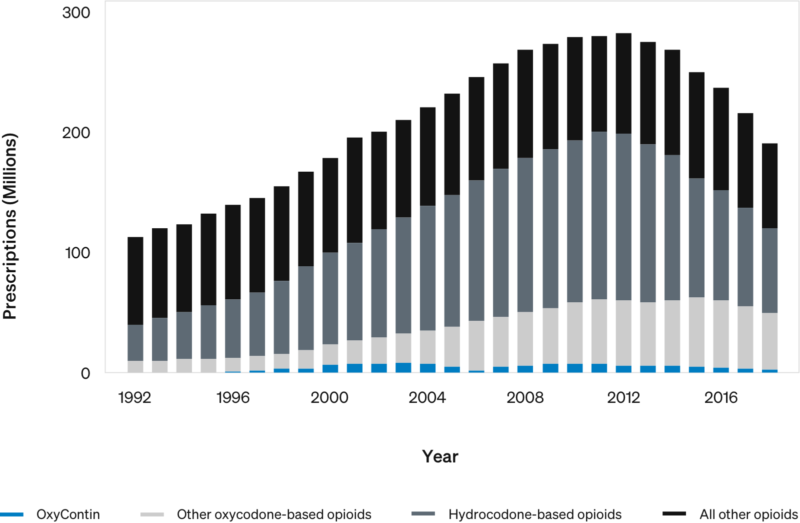 HISTORY
Prescription opioids have been used to treat pain since morphine[4] was invented in 1804 (and opioids have been used to treat pain since the Sumerians discovered poppy in 3400BC[5]). Beginning in the 1970s, opioid prescriptions began increasing significantly — with oxycodone increasing 40% and hydromorphone increasing 67% in just six years between 1979 and 1985.[6]
OxyContin: One Part in Long History of Prescription Opioids
---
Frequent errors in media
Media reports and entertainment programs frequently use OxyContin as a description for all opioids — often confusing OxyContin with the generic oxycodone[7] that was first introduced in 1916. (This Apple TV description for the film "Crisis"[8] erroneously mentioned "OxyContin," but the movie only ever said "oxycodone" or "oxy.")
News outlets also routinely correct this mistake amid the rampant confusion between long-acting OxyContin and the generic medicine oxycodone.
Nearly every news outlet has Made corrections about OxyContin, Purdue Pharma & the Sackler family